Landscaping Ideas to Make Your Home More Appealing
The design of your exterior is as important as the design of your interior. Be more careful while decorating your exterior as it is the mirror to your home. A beautiful interior soothes you but a stylish exterior will show your personality to the world. To help you out we are presenting some landscaping ideas to make your home more appealing.
Importance of Patio
A place for relaxation or contemplation, patio is necessary more than you think. Patio is quite popular for spending quality time with family also. A modern patio increases the appeal of your home and makes it look more welcoming and homey.
Wooden Decks
Wooden decks are very trendy now. Most of the homeowners are spending a good amount of money to add wooden decks. You can choose any modern design to make your home look lavish and classy.
Exterior Look
The exterior look of your house should be harmonious with your interior. Your exterior,if decorated correctly,would complement your interior. Garden elements such as plants,flowers or outdoor fountains should accentuate the appeal and color of your home.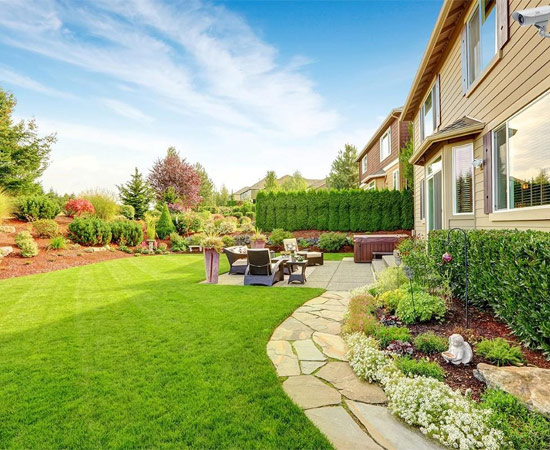 Lawn Around Home
Your lawn needs to have a healthy, lush look, nurtured and well kept. It needs a water sprinkler system to keep the lavish greenery evergreen. A lawn needs high maintenance. You need to rake,mow,edge and manicure it. You can also get some artificial grass to avoid regular maintenance.
Landscape Gardening
A lovely garden is a must for every home. Plenty of trees, flowers and bushes are important to give your garden a fuller look. Gardens also need proper maintenance. It needs pruning,watering,fertilizing and so on. A garden is the best way to utilize exterior landscape. It also works as an antidepressant. So don't be long to get yourself a beautiful garden around you.
Fire Pits
Fire pits are must to enhance your landscape beauty. You can go for minimalist modern designs or you can build one for yourself. It gives your outdoor area a feeling of coziness, homey and strengthens family bonds by spending quality time here. You can enjoy a relaxing evening or family night with some soda and marshmallow here.
Outdoor Kitchens
Outdoor kitchens have become very popular for homeowners these days. It's a wonderful area to sit and enjoy a delicious meal with your family under the open sky. To add beauty to your landscape, give the outdoor kitchen a try. It will be both a place to have "me time" and family time all together. You can utilise it more by adding shed to this place so that you can enjoy it in the hot sun too.
Landscape Lighting
Lighting is the most important part of your home appeal. It can make a simple place look magical. Use light to create a play of shadow and lights. It will fill your outdoors with a whimsical atmosphere. You can add fairy twinkle lights, solar lights and beautiful lanterns in your garden. You can keep some low lights and bright lights combined. Trust me the outcome will be divine!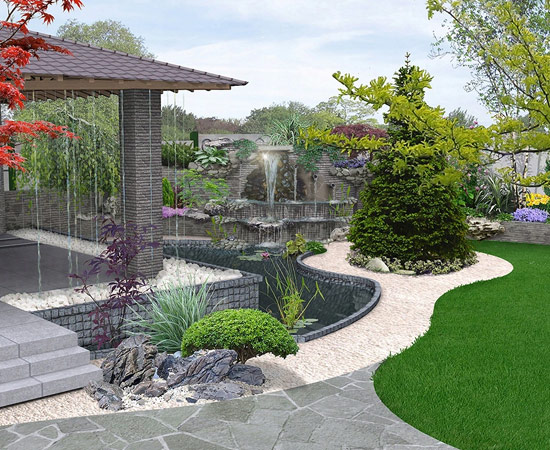 Garden Path
Garden path is an excellent idea to add more ravishing beauty to your landscape. Designing a garden path is not that expensive and it isn't high maintenance as well. Organize some gravel,stepping stones or bricks to make a path from your entrance to your outdoor garden. Keep some bushy trees side by side. It will give your place a feeling of countryside even in the middle of a town.
Garage Door
Garage door is one of the main points to steal viewers' focus. Make sure that your door hasn't been worn out. If so you can always repaint it or change it. Keeping your garage door clean and rhythmic to the surrounding area is one good hack to add beauty to your landscape.
Seasonal Plants
Keep all sorts of seasonal plants in your garden so that it feels spring everytime you pass through it. Don't go for a particular type of seasonal plant. It will make your garden look lifeless when they die after a particular season. Rather keep plants that remain healthy all year long to keep your garden happy. You can add flowering plants or plants with beautiful leaves and also some herbs.
Important Features
Focus on low maintenance features while decorating your garden,backyard or any other outer part of your home. If you ever reach to a decision of selling property, your clients would prefer a house with low maintenance features. So it's an easy investment and a great return. Use lightweight furnitures which are moveable and adjustable.
Spa
Adding a spa to your home is a great idea if you want to have a worthy return. It is much more affordable than having outdoor pools and requires low maintenance. It is a perfect place for both relaxation and working out as you'll be able enjoy swimming and hydrotherapy all together. It will make your home look unbelievably elegant too.
A beautiful home reflects the beauty of the dweller's soul. With these ideas you can keep your home evergreen and add more appeal to your landscape. So hurry up and give it a try to make your home look more trendy!